Getting Started
Here are a list of How to's to help get you started
Installing Windows Qt
Firstly you will need to download the independentmoneysystem-qt from
HERE
Once you have downloaded the independentmoneysystem-qt simply double click the qt.exe file to run it. Windows firewall will show a warning when your wallet is started for the first time.
Please check both checkboxes and click on "Allow Access".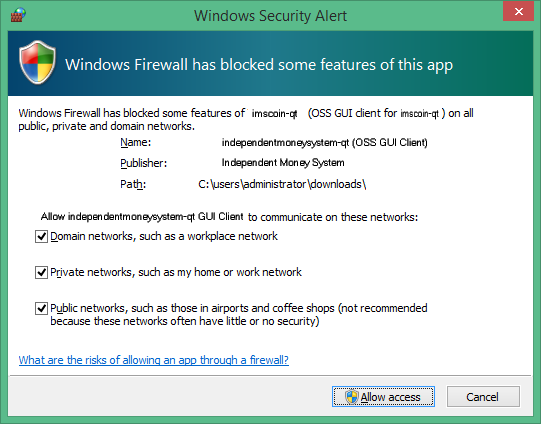 Once you have opened up your independentmoneysystem-qt for the first time, you will see there are no connections available. Now close the independentmoneysystem-qt. We will now configure independentmoneysystem-qt to work with the network.
Configure Windows Qt
You will need to create a config file and save it as independentmoneysystem.conf in one of the following locations listed below, see Manual Node Configuration paths. 1)To create a config file simply create a new file with Notepad 2)copy and paste the below .conf file 3)Select
Save As
in Notepad
File menu
, In
File name
, type the name and extension you want to In
Save as
type :independentmoneysystem.conf select
All Files
from the drop down list and then click
save
.
Copy this configuration file
rpcuser=rpc_user
rpcpassword=Very_strong_password
rpcallowip=127.0.0.1
listen=1
server=1
addnode=96.44.134.252

Manual Node Configuration paths
| Operating System | Default independentmoneysystem datadir | Typical path to configuration file |
| --- | --- | --- |
| Windows Vista, 7, 8 & 8.1, 10 |  %APPDATA%\independentmoneysystem\ | C:\Users\username\AppData\Roaming\independentmoneysystem\independentmoneysystem.conf |
| Windows XP |  %APPDATA%\independentmoneysystem\ | C:\Documents and Settings\username\Application Data\independentmoneysystem\independentmoneysystem.conf |
| Linux | $HOME/.independentmoneysystem/ | /home/username/.independentmoneysystem/independentmoneysystem.conf |
| Mac OSX | $HOME/Library/Application Support/independentmoneysystem/ | /Users/username/Library/Application Support/independentmoneysystem/independentmoneysystem.conf |
That's it, simple restart independentmoneysystem-qt.exe and your client should now synchronize with the independentmoneysystem network. Please check back for more how to's
2